Join us Friday for a...
Friday Night at Chabad! October. 12th 2018
"I will never forget Shabbat at Chabad!"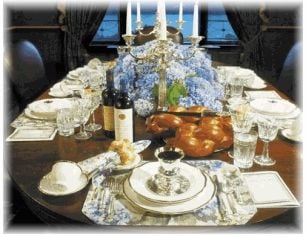 The Community Shabbat Dinners at Chabad provide an intimate and elegant setting to eat, meet new friends and celebrate Shabbat in a warm and enjoyable manner.  Kabbalat Shabbat followed by Dinner.
Shabbat at Chabad features four courses of traditional classics and updated favorites.
There is no charge for a Shabbat dinner. To sponsor a Shabbat at Chabad, please contact us.
Upcoming Shabbat Dinners:
November, 9th 2018 5:10 PM
December, 14th 5:00 PM
Bring your friends and taste one of the greatest treasures known to the Jewish people — Shabbat. Reservations required by Wednesday before dinner.
Click here to make your reservation 

Location: Chabad Edelman Jewish Center
16830 E Ave of the Fountains.